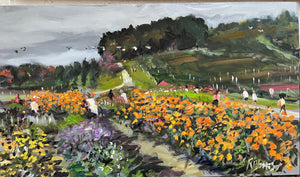 Cider Hill Giclee Print Signed, Numbered.
Regular price $155.00 Sale
Giclee Print. Email me at richardburkejones@gmail.com for a 15% cash discount. Three sizes - small, medium and large. Signed, numbered on archival paper using archival inks. FREE SHIPPING! Imagine my surprise as I was painting the flower field at Cider Hill, Amesbury, when I heard that they were plowing in the flowers tomorrow (10/15/21). I knew I might finish the painting that afternoon but that created a new sense of urgency. And they allowed everyone to pick the flowers for free! I felt I was in the gateway to heaven without a judgment. Cider Hill Farm is a very welcoming place and one evidence of that is a young man name Sam who epitomizes the modern day "Farmhand". He works all year round in the very cold weather during winter but enjoys his work and toil to the utmost. He told me cider Hill was just voted the number one apple orchard in the country by yelp. Congratulations! I initially asked the farm manager if I might bring my easel to paint and her response was the unusual "absolutely, we love artists!" Refreshing. Oil on board, 14 x 24", Richard Burke Jones Unframed.