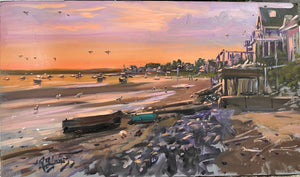 Twilight at Plum Island Basin Giclee
Regular price $125.00 Sale
Giclee Print. Three sizes - small, medium and large.
Signed, numbered on archival paper using archival inks. FREE SHIPPING!
Twilight at the Plum Island 
Basin
, 14" x 25", Oil, Richard Burke Jones. It is challenging to park on the Island now so my daughter Helen dropped me off and picked me up at 64th St where 
Basin
 Rd and Shore Rd meet (just in time as I did not bring my heavy coat and as the sun lowers so does the temp?). Met a welcoming woman (Ms Doherty) who offered me a parking space in the future. The sky, the tones, the view is so special. The sand was wet as the tide receded and I looked to the west and remembered my Kezer relations and miss them both! I hope I captured the sense of the place.
Concluded the outing with a drink at the Plum Island Grill where we sat next to a wonderful man who entertained us with stories of Woodstock and more.
I need to go back to the island very soon….