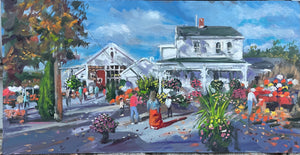 Giclee Print of "Cider Hill Farmhouse and Barns"
Regular price $99.00 Sale
This is a giclee print, signed, numbered, on high quality archival paper and archival inks of the iconic painting of Newburyport in the 1860s by Richard Burke Jones. Unframed. Free Shipping! (Email me at richardburkejones@gmail.com
So I headed back to Cider Hill Farm for a second painting this weekend (10/23/21) and I thought I would attempt the farm house and barns themselves. They stand next to each other in a slightly descending posture as the afternoon light raked across the courtyard - most often filled with people seeking a farm (back to earth) experience.
And I met Glen Cook the unassuming and heartfelt co-owner of Cider Hill. As he said, the farm is 'ours' not 'his' and it feels that way as I have gotten to know it. And I learned that the farm is borne of a merger of the Vedrani farm and an other. This is the very same Mike Vedrani family that I have known and admired for years!
Just another reason to immerse oneself in Cider Hill Farm.
Here is my reaction to the late day light playing upon the pumpkins, the pumpkin admirers, the hanging flower balls, the white buildings and more… 12x28", oil, Richard Burke Jones