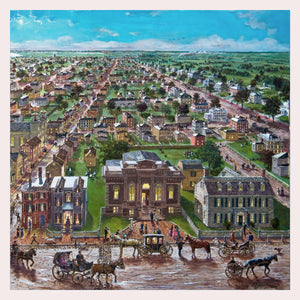 Giclee Print of "Upper State Street and Beyond, 1870s"
Regular price $195.00 Sale
This is a signed, numbered, giclee print on archival paper using archival inks. It is unframed. 
Richard Burke Jones - original oil on canvas, 38″ x 48″, entitled "Upper State Street and Beyond, Newburyport, 1870s". It was delivered to the Institution For Savings at 93 State Street, Newburyport in September, 2013.
After researching old maps, photographs, street layouts, historical treatises and the remaining buildings themselves, the view was chosen and the initial drawing in pen and ink was executed. It is a crow's nest view showing twilight activity on upper State Street in the 1870s. Free Shipping!